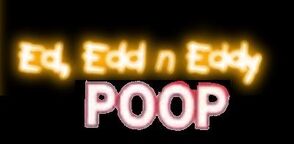 Ed Edd n Eddy Poop
is a YouTube Poop skit series.
The show premiered on YouTube on September 11th, 2009. The show features random skits of TV Shows, memes, music, & sometimes mashed up stuff with Ed Edd n Eddy footage. In season 1, each episode had a small segment at the end talking about life lessons, but ends up in mass choas. The show originally got cancelled after its first season, but was later revived on December 3rd, 2010 and gained a second season. While a third season was considered, the show once again got canned due to the creator's editing becoming more heavy and focus being shifted towards other works.
Show Info
Edit
Made by: Snorlax318
No. of seasons: 2
No. of episodes: 11 (Pilot + 10 episodes)
Running Time: 3-10 minutes
Original site: YouTube
Original run: September 11th, 2009 - March 6th, 2011
Status: Cancelled
Season 1: (2009)
Edit

All the season 1 episodes can be viewed on 4shared.
| | | | |
| --- | --- | --- | --- |
| Episode No. | Title | Summary | Airdate |
| 0 | The Vengeance Of Wilfred (pilot) | Wilfred rises from the dead to kill everyone in the cul-de-sac and only Jimmy can stop him. | September 11th, 2009 |
| 1 | The Very First Episode | Eddy scams $25 off of Jonny & Plank to visit a future-themed park; Ed tries to retrace his steps to find Eddy's pingas; Rolf and Ed become obsessed with food. | September 13th, 2009 |
| 2 | Messy Mischief | Eddy decides to hit Rolf with a rock; Sarah insults the D.D.A.; Eddy tries to set Jonny up with a new friend, but ends up destroying the cul-de-sac. | September 20th, 2009 |
| 3 | Ball Fools | After the huge disaster Eddy caused in the previous episode, the survivors try to hide themselves from getting hunted down; Jonny can't stand Kevin's balls. | September 27th, 2009 |
| 4 | Birth Of A Hedgehog (halloween special) | Eddy decides to build a robotic hedgehog named Shadow on Halloween, but it soon backfires. | October 20th, 2009 |
| 5 | Boat Smarts With Double D | Edd, Ed, and Kevin make an instructional video about car safety. | October 27th, 2009 |
Season 2: (2010-2011)
Edit

| | | | |
| --- | --- | --- | --- |
| Episode No. | Title | Summary | Airdate |
| 6 | Glad To Be Back | After a one year cancellation, Ed Edd n Eddy Poop is brought back; Eddy gets an unexpected conscience; Ed makes music with a hair comb; A new video game hits the cul-de-sac. | December 3rd, 2010 |
| 7 | Grand Theft Jimmy | After getting fired from Ed Co, Jimmy decides to use the power of the Grand Theft Auto franchise to unleash havoc onto the cul-de-sac. | January 29th, 2011 |
| 8 | The Interactive Episode | Viewers on YouTube help Ed, Edd, and Eddy play a game of hide-and-seek in an interactive annotation point-and-click adventure game. | February 10th, 2011 |
| 9 | Death Of A Hedgehog | Kevin kills Shadow; Edd exposes Eddy for making food out of their friends; Eddy yells at the entire company that someone took his car spot. | March 1st, 2011 |
| 10 | What A Weasel | The Kankers watch the most immature commercial ever; Ed expresses his thoughts on a Kool-Aid commercial; Eddy and Ed host a telethon to boost their chances of getting a third season. | March 6th, 2011 |

Ed Edd n Eddy Poop was originally going to be renewed for a third season, but was later canceled after the creator's editing became more heavy and focus being shifted towards other works such as DJ TOONS Gamers, The Irregular Show, The Eds' Epic Adventure, and many others.
Other media
Edit
DJ TOONS Choice Awards
Edit
In the 2010 DJ TOONS Choice Awards, Rolf was presented to give out the award in the "Best Video Game" category, then he leaves yelling at the audience to leave him alone. The show itself was also nominated for the "Best DJ TOON" award, but ended up losing to the Flapjack Dub.
Cameo appearances
Edit
Eddy made cameo & guest appearances in the Flapjack Dub as a sailor in a few episodes (He mostly appeared in "Flapjack Kills Willy", "Willy Kills Flapjack", & "K'nuckles The Tutor").
Ad blocker interference detected!
Wikia is a free-to-use site that makes money from advertising. We have a modified experience for viewers using ad blockers

Wikia is not accessible if you've made further modifications. Remove the custom ad blocker rule(s) and the page will load as expected.